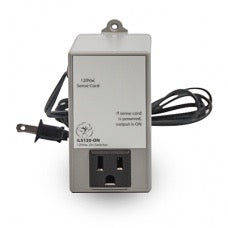 The iLS120-ON On Switcher/directional relay is useful for adding equipment to augment a process like heating or cooling. It allows you to add additional equipment exceeding the controller load capacity: the equipment is simply activated when the current is active at the controller output. 
The iLS120-ON turns on the equipment when the relay sense cord detects that the control output is powered. No adjustments to make—just plug the iLS120-ON on a circuit to increase capacity and distribute load on more than one circuit. 
It is possible to plug one or more iLS120-ON sense cord into a 120V power strip connected in a controller outlet to distribute the load over many different circuit. You can also increase the capacity with one or many load switcher box iLS4-121, iLS4- 121s or iLS4-241.
15A 120V switches ON when sense cord is powered
Used to turn on equipment from other power circuit
Choose options