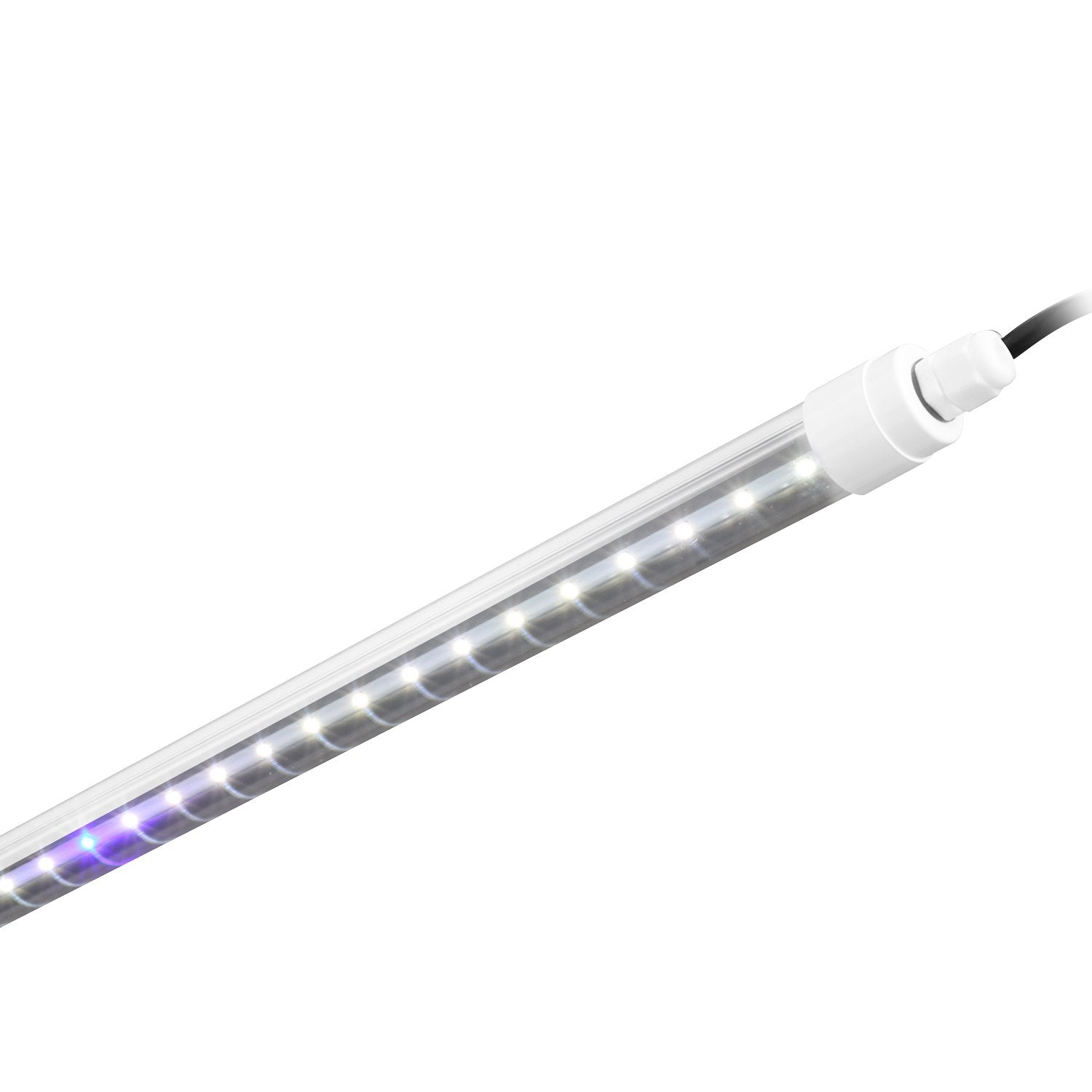 Coverage Footprint:
VEG:                                                     
1' x 4' area (.3m x 1.2m)                   
2 in a 2' x 4' area (.9m x 1.2m)    
This light is designed for VEG Racks for small plants and clones in the VEG growth phase. This is a single row LED Strip with Samsung LM301H White LEDs and 2 Samsung LH351H Royal Blue LEDs. This is the highest Quality LED Tube Light ever created using the industry's highest quality components to give you a tube light designed to last 10 Years+. 
Slim 25 VEG Lightbar. (25 watts)
56 Samsung LM301H LEDs (Mixed White Blend 3000k & 4000k)
2 Samsung LH351H LEDs (450nm Royal Blue)
Optics :
Samsung LM301H LEDS: 120 Degree Wide Beam Lens
Samsung LH351H LEDs: 120 Degree Wide Beam Lens
Secondary Optics
Thermal management: Passive Cooling from a significantly Overbuilt extruded Heat sink (Fanless Technology - No Moving Parts) 
Spectrum: Full Spectrum White Light 5000k + 450nm Royal Blue
Slim 25 Specifications:
Kelvin: 5000K Day Light White
IP Rating: IP65 Waterproof
LEDs Per Watt: 2.32
Actual Power Draw: 25 watts max
Amps: .2 Amps
Voltage : Internationally Used 110 volts -277v
Lifetime: 100,000 Hours+  
Warranty: 10 Years full warranty - Lifetime warranty on Meanwell Driver 
Release Date: May 2021
Shipping: Free Shipping to 60+ countries 
Light Fixture: 48" x 2" x 2" Vertical Farming Aluminum Fixture 
Cables: 6 Foot attached power cord 
Plug: USA, CANADA, EURO, Commercial, etc.
(We automatically ship the correct cord for your country)
Dimming: Non-dimmable
Master Controller: Non-compatible
Fixture Dimensions: 48" x 2" x 2" 
Fixture Weight:  .5 lbs 
Shipping Weight: 2 lbs 
Hanger: 2 Clamps that you can screw into place
Recommended for: Grow Tents, Grow Rooms, Greenhouses & Indoor Cultivations. 
*International Shipments may require Taxes & Duties. Contact us for a quote!
Sales@OpticLEDGrowLights.com
Pictures:
Choose options