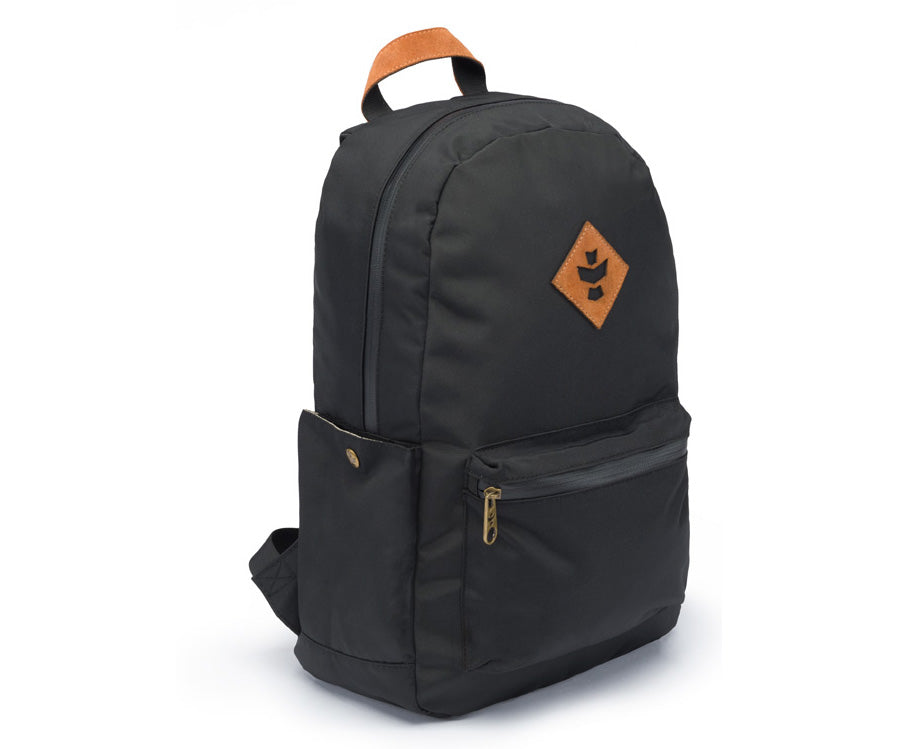 The Escort

Backpack, black exterior, black trim, brown suede, brass hardware.
The Escort is an odor absorbing, water resistant, backpack. With multiple compartments, it works well to carry all accessories. Inside the Escort is a laptop divider to protect the technology you may need to carry. Also inside is a secret stash pocket that you'll find is just the right size for Revelry Supply's flask, the Accomplice.
Features
Odor absorbing
Water resistant
Dual carbon filter
Silicone backed nylon
Custom protective lining
Waterproof zipper
Lockable
Laptop divider
Double side pockets
Secret inner stash pocket
Genuine leather accents
Metal hardware
Benefits
What sets these bags above the rest is their ability to encapsulate odors, preventing their escape, and to protect against water damage. The key to their high functionality is a custom system of layers used in each bag. The outermost layer is a rubber-backed nylon which is what makes these bags water resistant and also keeps odors contained within the bag. Working your way into the bag, there is a Dual Carbon Filter. These layers work together to filter out any unwanted odors. Lastly, we have a cotton lining. It is soft to the touch and also helps to protect the longevity of the Dual Carbon Filter. What also sets these bags apart are the high quality materials; all bags have rubber-coated zippers, genuine leather accents, and metal hardware.
Refresh your bag by simply placing in the dryer for a few minutes—until warm—to release all absorbed odors.
Includes
One backpack
Dimensions: 17" x 13" x 5"
Weight: 1.8 lbs
Choose options