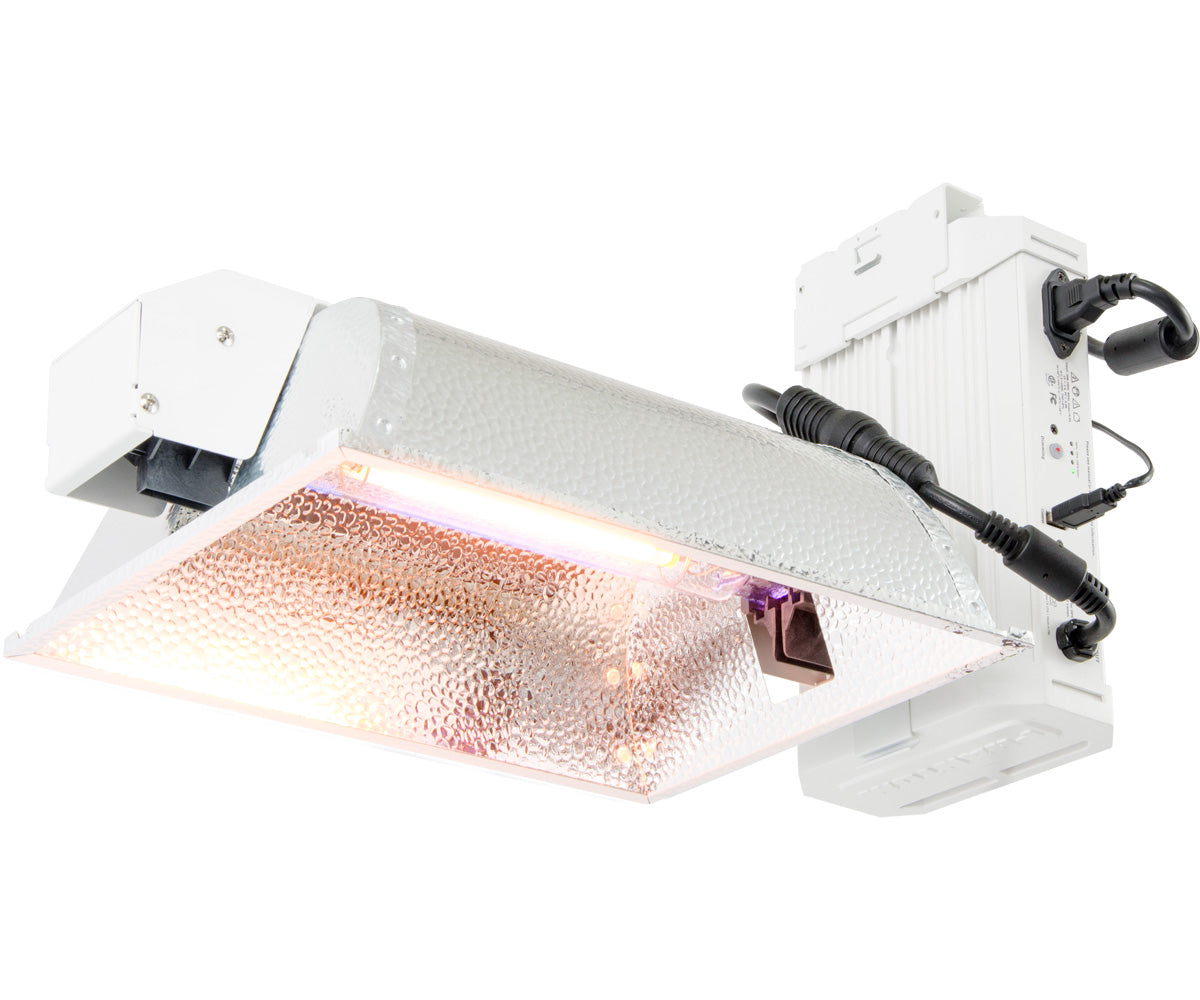 Phantom Commercial DE Enclosed Lighting System with USB Interface (208-240V) 
The Commercial Enclosed DE Lighting System is state-of-the-art double-ended technology that uniformly delivers optimum PAR value over a broad footprint. This system gives you the unique ability to remove the ballast from the reflector so it can be used remotely, allowing you to operate the ballast outside of your grow room, to effectively reduce heat load.
At the heart of this system is the new and improved PHB4015 Phantom Commercial DE Ballast with USB Interface. Its USB interface enables connection with the Autopilot PX1 Digital Lighting Controller.
PHB4015 Ballast features:
USB interface provides full compatibility with Autopilot PX1 Digital Lighting Controller
High-precision microprocessor control
Four-way output control: 60%, 75%, 100%, and Super Boost (1150W lamp output)
Robust commercial design
Superior reliability
LED status indicator
Internal RF shielding
Patented ignition control
End of lamp life signal
Auto-restrike feature protects valuable lamps from damaging power interruptions
Cooling fins for maximum heat dissipation
Suitable for use in damp locations
Features an IEC power connection and comes with a 8' 240V 16/3 AWG power cord with EMI suppression
Includes 15' USB-RJ12 Controller Cable Pack
FCC certified
Enclosed Reflector features:
Double-ended system delivers higher PAR value with incredible uniformity
Patented open roof design for ideal lamp operational temperature
Premium aluminum European hammertone interior: 99.85% pure, 95% reflectivity
Directs light down in a focused pattern
Compact design minimizes interference with sun in greenhouse applications
Excellent efficiency at higher mounting heights
Requires fewer reflectors to meet desired light levels
Compounding performance in multi-light configurations
European-made VS K12 x 30s high temperature lamp holders
Patented reflector design: D731,109 (and other patents pending)
Premium DE lamp features:
High proportions of red and blue light guarantee efficient photosynthesis
Excellent PAR output (2100 μmol/s )
Quartz glass outer jacket for superior optical quality
Lamp design eliminates shadowing from arc tube support
Designed for use with Hydrofarm and PARsource high frequency DE fixtures and ballasts
CSXCORD: Lock & Seal lamp cord extension allows for remote operation up to 15' (sold separately)
Choose options