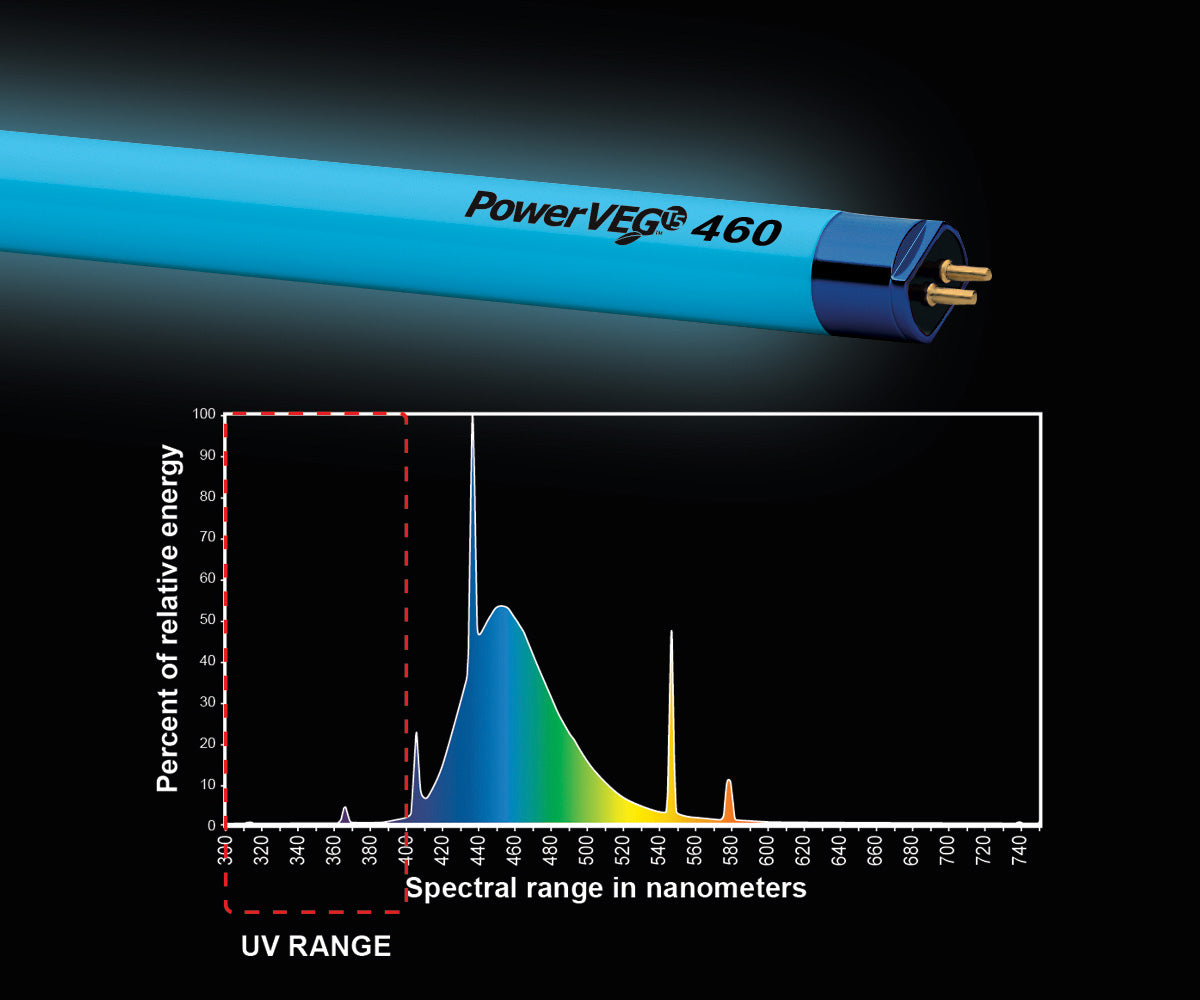 PowerVEG 460 Grow Light
The name "460" references the area of the light spectrum produced by this lamp. The PowerVEG 460 Fluorescent grow light helps indoor gardeners bridge the gap between the vegetative and flowering stages. With the PowerVEG 460, your plants' responses are at their fullest at all times, leading to stronger root growth, compact plants, and extremely short intermodal spacing.
Here are some other benefits of the PowerVEG 460:
• Chlorophyll B is absorbed strongly at 460 nm
• Stomatal opening (feeding tube of plant) is 10 times greater than red light
• Carotenoids absorb light at a high rate at 460 nm (Protects the plant from free radicals)
Combining Red and Blue Spectrums for Your Plants
The PowerVEG 460 is just one member of the PowerVEG family. For best results, combine the PowerVEG 460 with the FS+UV, 420, 633 and 660 grow lamps and create your own custom spectrum for your garden. Check out Eye Hortilux's main PowerVEG page for combination suggestions.
Directions
The 460 can be used in any existing T5, 54 watt, HO (high output) lighting fixture. Combine the 460 with other PowerVEG T5's for maximum results. See Eye Hortilux's suggested formulas for VEG, FLOWER and START-to-FINISH.
460 Replacement Guide:
Optimal Growth - 8-9 months
Average Growth - 10-11 months
Maintenance Growth - 11-12 months
Based on 18 hour burn time per day
Disclaimer: Product shown as fully lit. PowerVEG 460 appears white when not lit.
Choose options